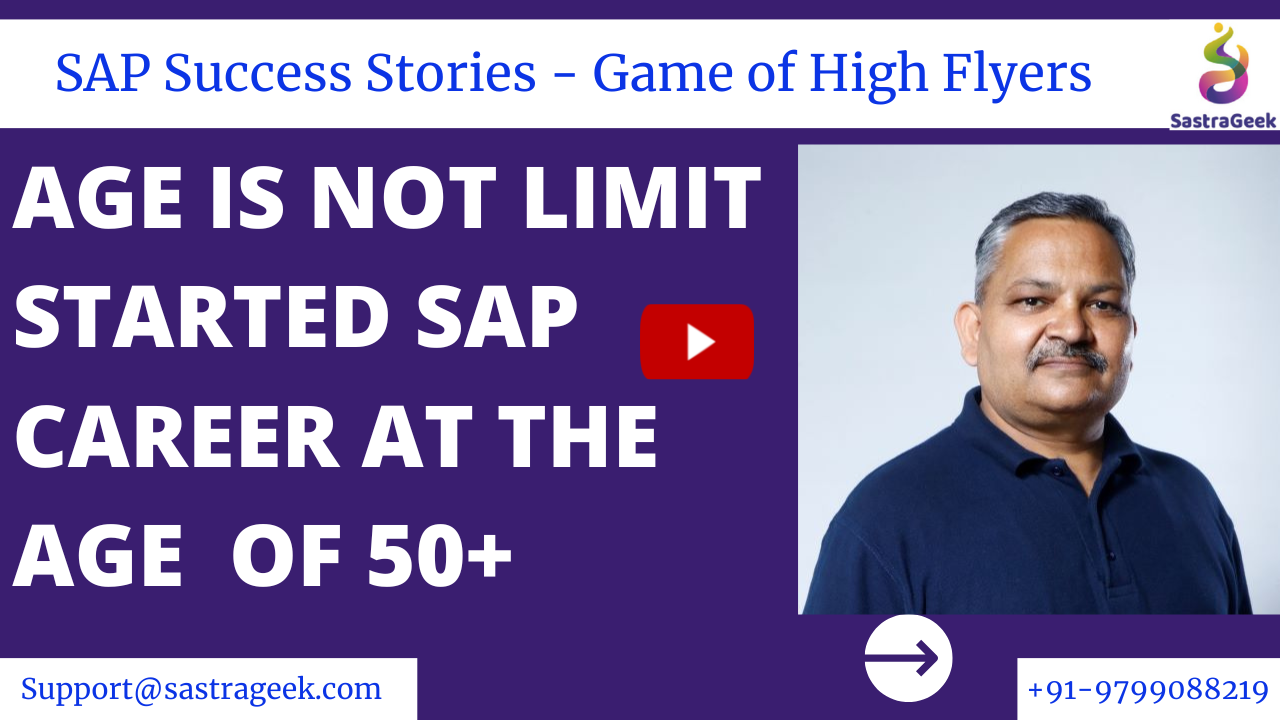 Rajesh Sharma - started his career in SAP at age of 50+ after 25 years of domain experience. He was looking to become a SAP consultant and did multiple trainings with us. For example, he learnt about SAP S/4 HANA Sourcing & Procurement (SAP MM), SAP EWM, and also about SAP Job Hunt mastery. He cleared multiple SAP certifications for MM and EWM Consultant. Rajesh's journey proves age is just a number. Click on Thumbnail to Watch Complete Interview.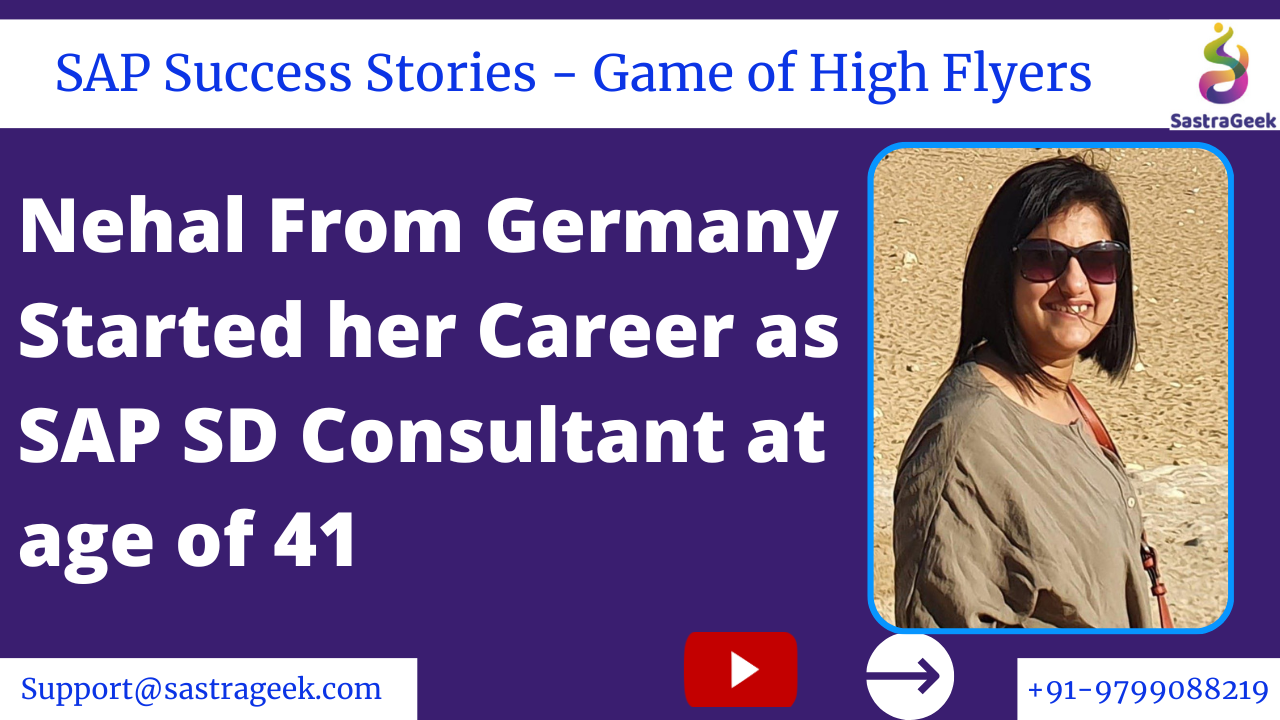 Nehal Dhruve, who accomplished great things in her career. After joining us, Nehal completed the SAP SD mastery, job and interview preparation, and certification preparation courses included in our SAP SD mastery bundle.
Despite having over 21 years of experience in different domains, including banking, call centers, and customer service, Nehal decided to explore a new area and pursued SAP SD completing her training in just 5-6 months and landed a job at one of Germany's largest SAP consulting companie. Click on Thumbnail to Watch Complete Interview.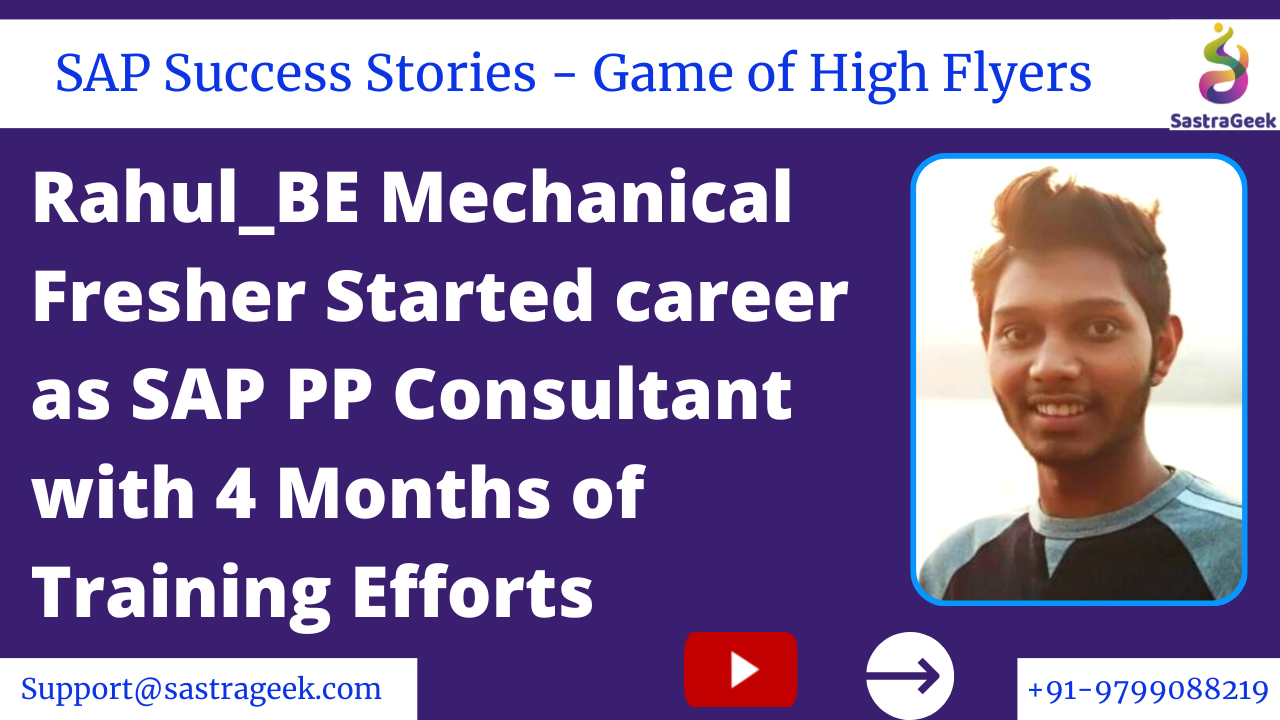 Rahul a mechanical engineer, he completed graduation at the end of 2020 and after that he has experienced six months working in one automobile company and then he came to us and started SAP Mastery Production Planning and SAP Job Hunt Mastery. After doing these course within four month of time he got an offer from TCS with the initial package as a fresher of 3.3 plus. Click on Thumbnail to Watch Complete Interview.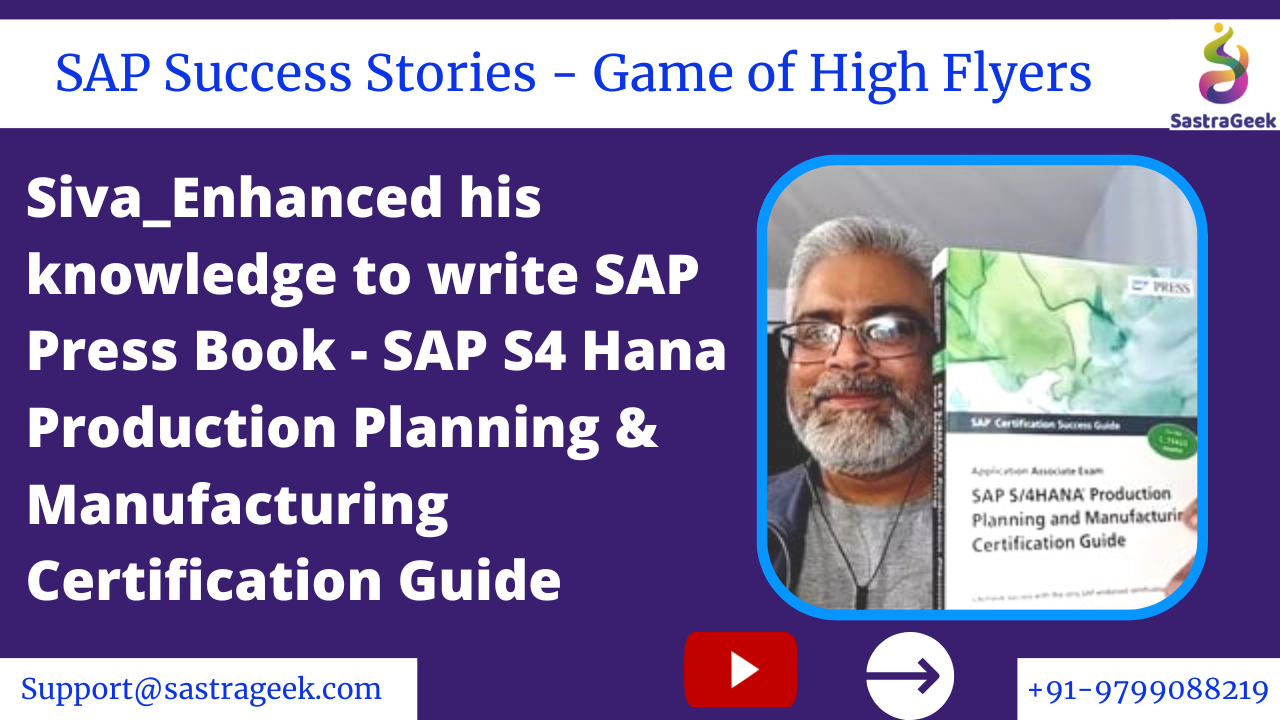 Shiva is a SAP PP consultant with 16+ years of experience and 23+ years of experience in the field. His strong areas are SAP PP implementation, configuration and customization services. One of our regular customers, Siva, happened to come across with the Sastra Geek 2020 website and signed up for the logistics training. The training covers topics such as Production Planning (SAP PP), Advanced Sales and Distribution (SAP SD) and Advanced Materials Management (SAP MM).Siva has come up with a 400+ pages of specification guide for SAP S4HANA PP certification exam which is considered as one of the best materials available out there. Click on Thumbnail to Watch Complete Interview.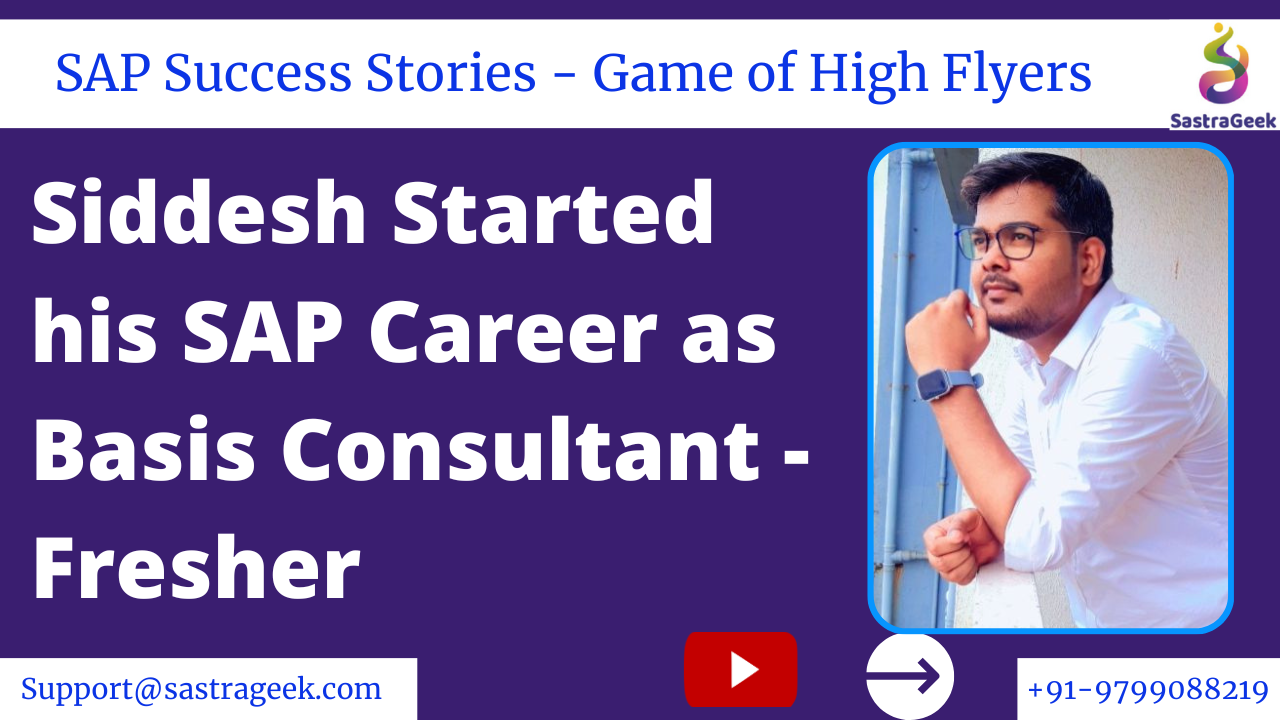 Siddesh done his engineering in Electronics and Communication. He worked as support engineer. He has walked into the health care, COVID impacted him badly and he want to switching his career and joining same profile, which will be very good. Somebody suggested him go to SAP. He took the SAP BASIS training. He took the training in May and in August he got placed with one of the well-known company and now he has already joined it as a SAP Basis consultant. Click on Thumbnail to Watch Complete Interview.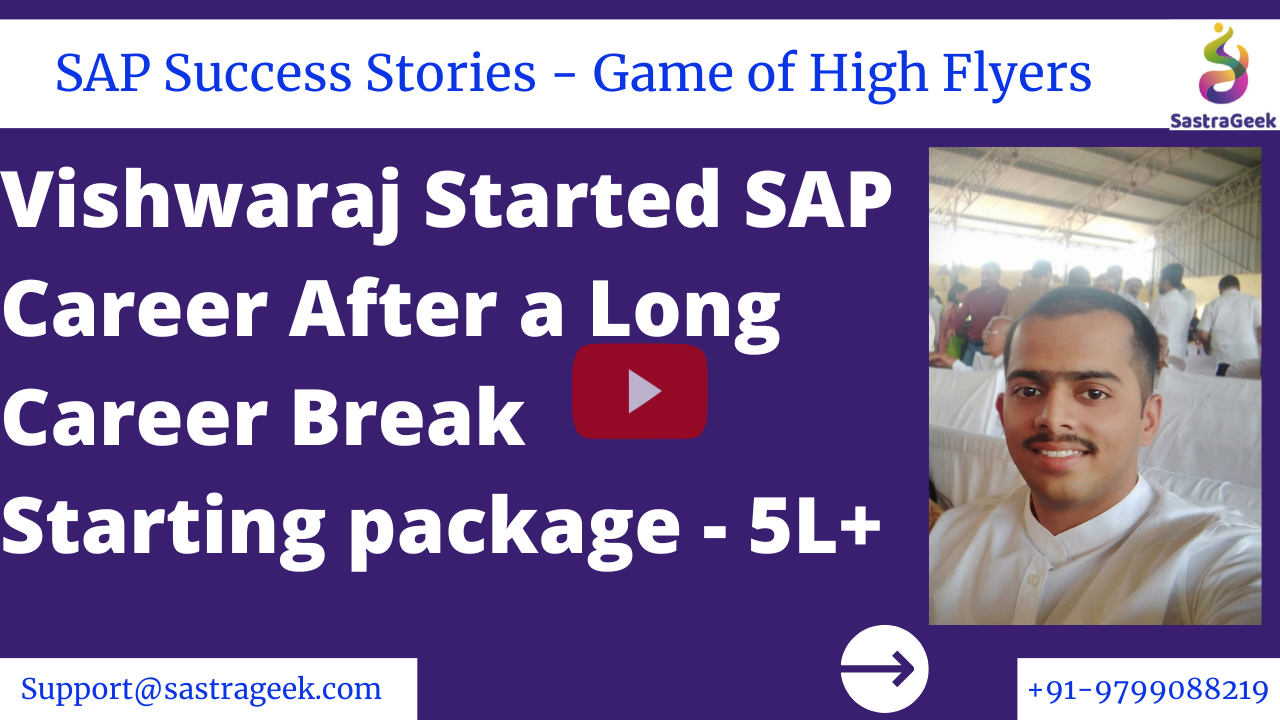 Viswaraj, who has a three-year gap, preparing for the civil services. The odds of getting into the Civil Services are slim, as only a few people are selected. We gave him a game plan for 3 to 6 months and eventually he took SAP FICO training with us. His performance with SAP FICO training was very good and he also did an internship with SastraGeek Solutions. Finally he got placed in a company called Hitachi with the package 5+L.
Click on Thumbnail to Watch Complete Interview.